EU Scientific & Regulatory Updates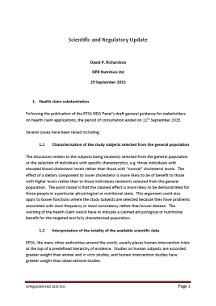 The Scientific & Regulatory Updates, supported by legislative documents, provide detailed information about legislative changes in the field of nutrition: in the Standing Committee on the Food Chain and Animal Health which regulate health and nutrition claims in the EU; newly published EFSA scientific opinions; European Commission guidance documents, recommendations, and proposals for legislative changes; Codex Committees; regulatory changes at the level of the FAO and WHO; as well as nutrition reports and publications.
The Scientific & Regulatory Updates, written by David Richardson, appear 10 times per year. A yearly subscription per institution costs € 1,375 + VAT.
Download an example of Scientific & Regulatory Update (without legislative attachments) from September 2015 here.
If you are interested in subscribing to the Scientific & Regulatory Updates you can sign up at icc-gmbh[at]icc.or.at.